During these challenging times, it's important we come together and spread positivity, love, and inspiration to one another. Which is why I'm so excited to share the most recent feature inside our Mind Movies app:

#DoYourPart

#DoYourPart is all about taking actions that protect and support yourself and those around you!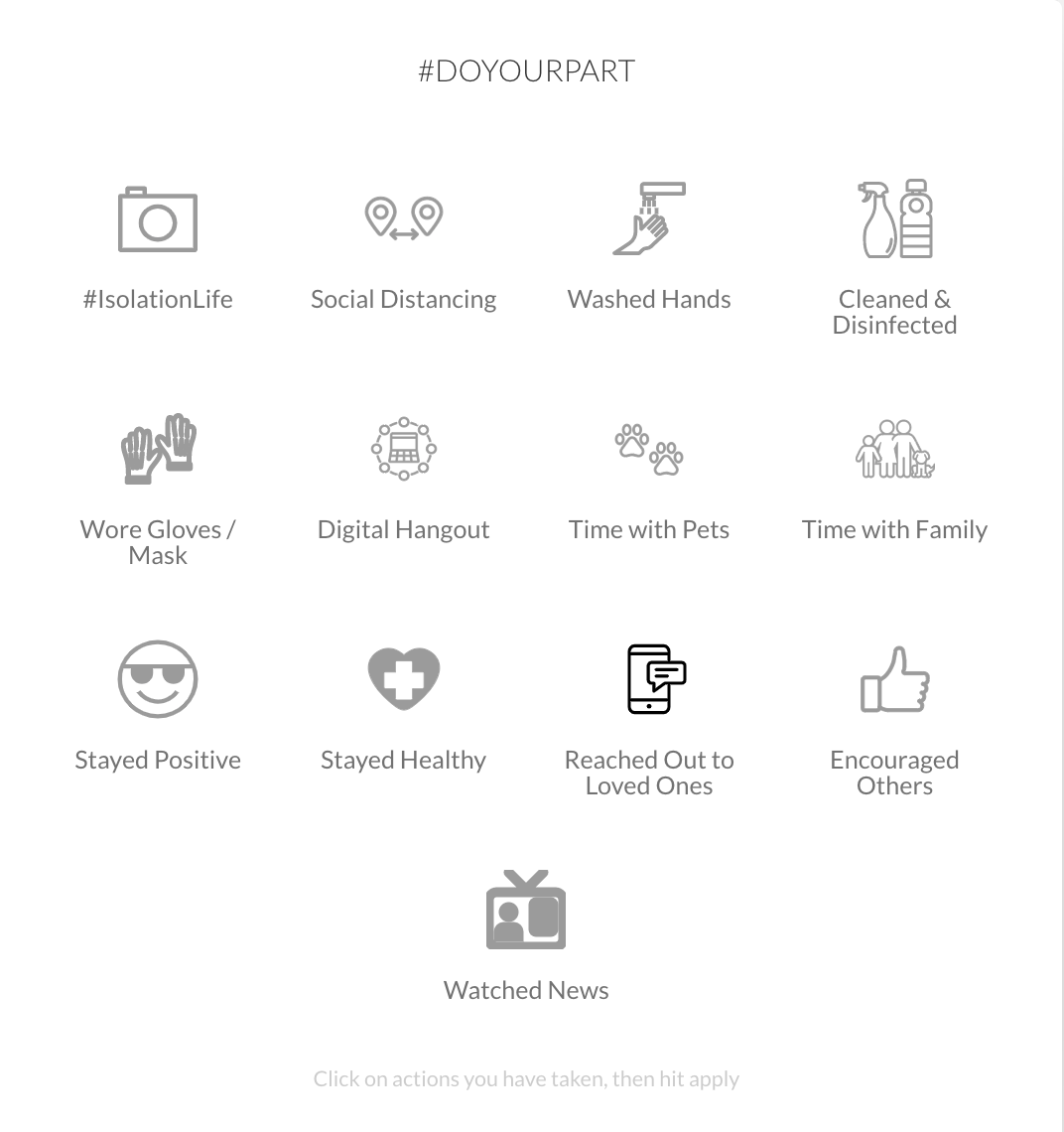 Inside the app, you will be able to take actions that keep you happy and healthy during the pandemic.
Do things like social distance yourself, wash your hands, reach out to loved ones, clean & disinfect areas around your house, and so much more - all from within the app!

Some of you may already be familiar, but the Mind Movies app is a new app where you can connect with other motivated, like-minded, and mindful people, who are all working specifically towards their own personal development goals. I may be biased, but it's one of the best apps I've used because it's made for people just like me and you.
It gives you a chance to connect with your friends, encourage one another, help each other defeat those stubborn blocks like self-sabotage and procrastination, and celebrate your wins… together!!! Especially during these crazy, unprecedented times we are all experiencing on a global level.
So get ready, because I'm so excited to tell you more about the Mind Movies community app and how you can start leveling up your life in the most fun and engaging ways.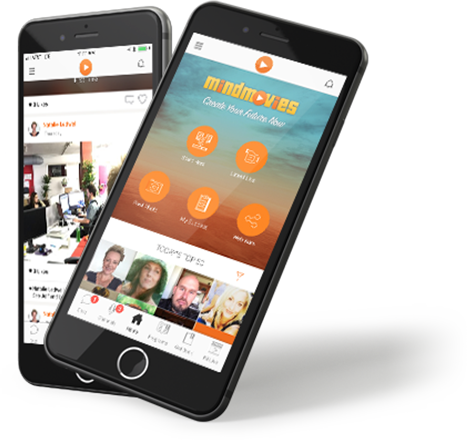 Now that Mind Movies is mobile, with this app, you have the ability to do things like access exclusive courses, participate in contests, earn rewards, and instant message with other like-minded community members. And the best part is that it's free to download and available for Apple and Android devices.
So how does it all work? Well, there happen to be tons of ways you can interact with the Mind Movies app:

Connect with other like-minded people around the world
One of my personal favorite features is that you're able to easily connect with other like-minded people from all over the world who are all actively working toward improving their lives. The mutual exchange of encouragement and support is truly what makes the app so special. You can follow each other's progress, share blogs and content, and so much more - all from within the app!

Watch my Facebook Live videos
Another awesome feature is the ability to watch my latest live videos. Just click on the "FB Live" button and you'll instantly be taken over to my Facebook videos to watch, completely FREE! Here you can keep up with all the latest videos I create without having to search through Facebook, past emails, or on the Mind Movies websites.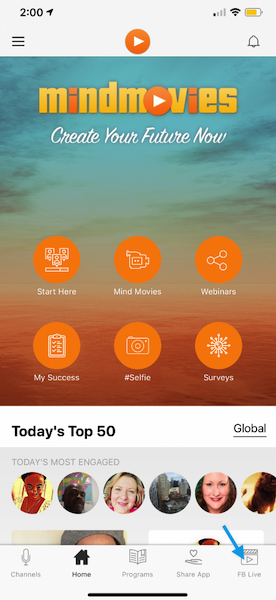 Post a photo and share your progress
One of the greatest reasons why I love that you can share your goals and progress on the app is that you're not just sharing with friends and family, you are also sharing with like-minded people who are on similar journeys. It's like having a virtual gym buddy or workout partner.
Use the 'Post Photo' feature to share pics from your life and connect with others. Whether it's your latest favorite place to run or the new breakfast smoothie you just created, this feature lets you do just that - along with any other travel, workout, or inspirational photos you'd like to share. So everything from selfies or photos of you with your friends and of your lifestyle, the mobile app community is a great place to feel and share the love.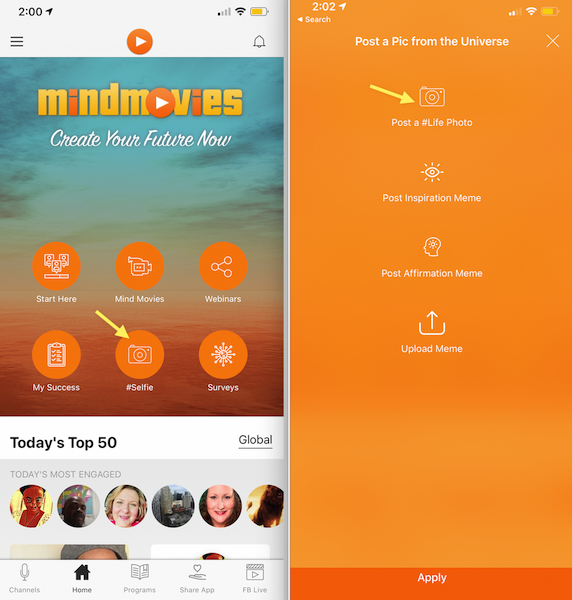 Everyone in the Mind Movies community is posting here too - so it's like having a social media hangout that ONLY has good vibes and uplifting positive people and stories. There's no negativity allowed!
I encourage you to contribute to this page as often as you like – honestly, you're going to have the most fun with this! So share your journey, see what everyone else is up to, and motivate them with your likes and comments. Because hey, just like me, I know you really want to improve your life and are working very hard on it... so why not make it fun?!

Post your "wins" to the community feed
Posting your "wins" to the Gratitude Wall (or homepage feed) is a great thing to add to your gratitude rituals if you've already begun - or to get them started if you haven't! When you head over to the 'My Success' feature, you get to mark your progress, share your daily wins, and get a dose of instant inspiration by checking out what everyone else has been up to in the community feed: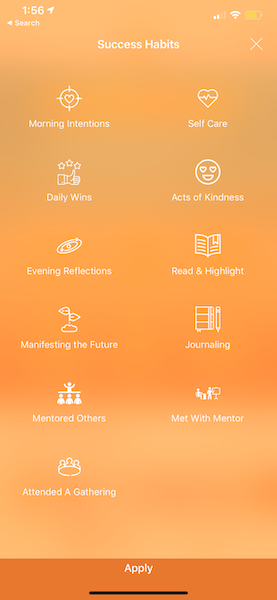 Once you start checking the feed daily, you'll love how much easier it gets to keep performing and achieving at your best...not to mention maintaining a positive mindset.
This new way of having fun with self-improvement and making connections with other people around the world who are working on similar goals and have similar interests are just a couple of reasons why our app is so popular.

Stay informed and up-to-date on the latest webinars and trainings
Check out the 'Webinar' feature to stay informed and up-to-date on the latest webinars and trainings that are available to you. This is where you can keep track of all our upcoming webinars, and reserve your free spot on any one you find interesting, right from inside the app itself! It really doesn't get any easier than this because webinars are where many of our students experience some of their biggest personal breakthroughs. So I hope this feature encourages you to join us when they come along.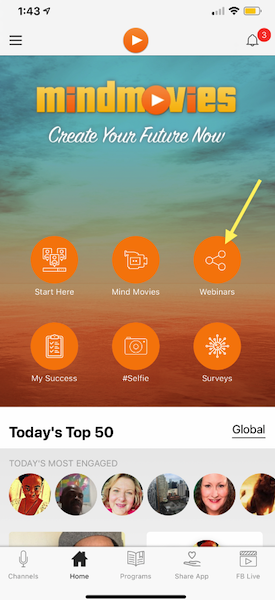 You also have access to free and fun online courses by Mind Movies, as well as getting the best deals on our self-improvement specials the moment they come out. This can be found using our 'Programs' feature, as it gives you easy access to our entire catalog of programs and online courses, right from the app.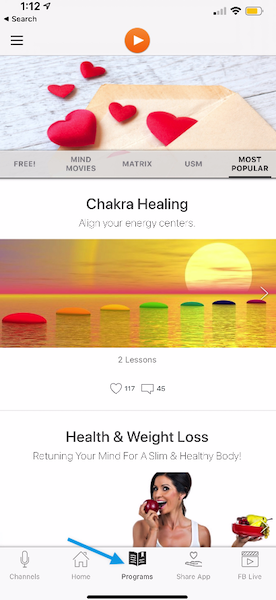 So that's free courses, ready to watch Mind Movies, and guided meditation packs, plus special offers on our best-selling premium courses (some of which are limited so this gives you a real advantage). Plus, this year we launched our podcast: Not Over, Just Different - and we share them inside the app under the 'Free Section'. Pretty cool, huh?!
And when you take advantage of these offers, you get the long term rewards of improving your life, along with instant rewards such as discounts to new products, badges for completing courses or reading blog posts, and even get freebies and giveaways as you stay active inside the app.

Connect with me!
Like I mentioned before, the reason why I truly love this app so much is that I can connect with you! And YOU can connect with me! So be prepared to see things like beautiful views and sunsets, what I may be snacking on, and the occasional pic of my sweet Bella. :-)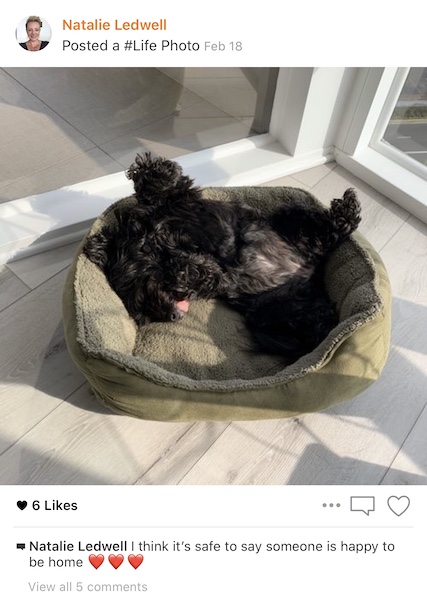 And with the new #DoYourPart feature, I can now snap and track time spent with my little fur baby!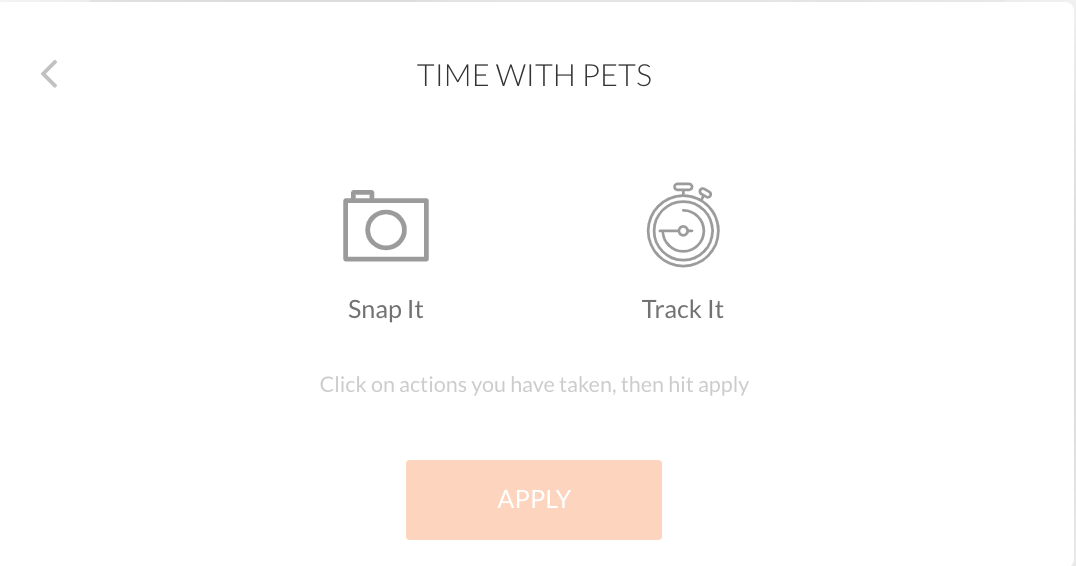 Again, personally connecting with all of the people that make the Mind Movies community so special really feels like a full-circle moment, so keep at it because I really love seeing what you are up to and your incredible growth.
It's easy to follow me (and others) inside the app – all you have to do is start by typing in "Natalie Ledwell" in the search box on the Contacts page, and you'll find my profile that includes an intimate summary of everything I'm up to. I even share things like freebies, new and exciting self-improvement ideas, and more! So I can't wait to hear from you all inside the app!
And as easy as it is to follow other community members, you can also use the 'Channels' feature to follow any channel/topic you'd like. This activates instant notifications whenever a new blog post is published in that category. And our blog posts often include limited-time offers, secret giveaways, and gifts, so these notifications will often help you grab the good stuff before it runs out.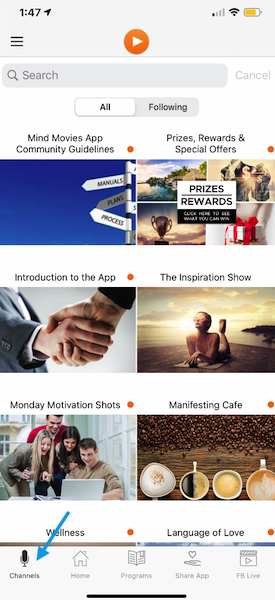 So whether you're currently focusing on inspiration, success, manifesting, or other topics, this helps you get more of the information you want to see about your personal interests, without the clutter.
So, as you work on improving specific things in your life, like setting and hitting goals, you've got to ask yourself, are you ready to have fun on your self-improvement journey?
Well, maybe it's time to join the mobile community of people who are taking the reins on their own personal development and working to become the best versions of themselves as we speak. And the more you use the app, the more rewards you get - both practically and energetically speaking. But don't take my word for it... join the other 50k+ members (and counting) who are having fun inside our Mind Movies App now - and see for yourself!
Type in "Mind Movies App" in the Applications search bar on your iPhone, iPad, or Android device and download for free today!